My name is Jenn and I am a mom of two beautiful, busy, unique, strong-willed, and ambitious girls. Both of my girls struggled with their own unique sleep challenges and therefore made sleep a HUGE challenge! I am so passionate about what I do because of the struggles and roadblocks I have encountered. After spiraling into deep in the dark areas of sleep deprivation, I had decided I would try sleep training my oldest. When this didn't work I had lost all hope, I thought I was failing as a mother. After all, I couldn't even teach my child how to sleep! ( It's not a thing, sleep is a biological function don't waste your time trying to teach your baby how to do something they already know how to do)
When I realized that a pacifier wasn't something I HAD to get rid of, and bouncing on a yoga ball didn't have to continue if I didn't want it to, I was able to feel more confident in my parenting abilities, I was able to enjoy the motherhood I was designed to have with my daughter. I could continue to do the things in our special routine that I loved doing, and I no longer felt as though I couldn't do this mothering role that I was designed to do.
Until….
My second was born. She raised a whole different area of sleep challenges for me, and this time It took me by surprise because I was well versed in the ' No Sleep World' I thought I could handle whatever I was in for.
This sensory overloaded child was having a hard time and this wasn't a time to force independence on her. She needed me, and she needed me close. Creating this balance and this security was challenging while maintaining my relationship that I deared so much with my oldest. Once we sorted out ways to help her have her needs met and create a balance for everyone our world became a lot more manageable. I maintained my strong attachment relationships with both my children and felt as though I was able to see clearly when attuning to their needs. Again I was able to advocate for myself and what I could manage once we addressed all of the underlying concerns that were interfering with her ability to sleep.
Each and every case I have the privilege of working with has their own uniques challenges that present different challenges. What may be a challenge to you may not be an issue for the neighbour. Not every baby will present the exact same areas that they need support with. What works for one child might not work as easily with the next.
Despite these girls challenging me in their own unique ways they inspired me to want to help other moms struggling on their journey. When I was given the opportunity to become a Certified SLEEP AND WELL-BEING SPECIALIST, I jumped on it. This allows me to dig deep into the core challenges without suggesting any form of sleep training!
I now have the skills and tools to help moms who are struggling with sleep and need some support and guidance to get the relationship back that they deserve with their little one(s). I would love to help you out!
Thanks for reading,
Book Your Free Intro Call!
It will only take a minute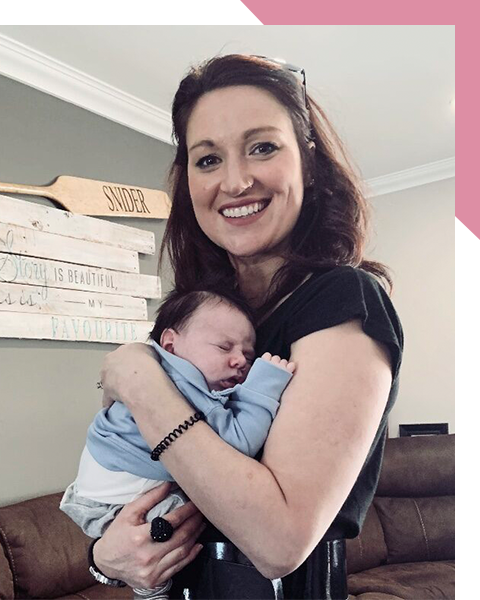 What does Heartfelt Slumber do to offer your family more sleep?
I am so passionate about helping parents along on their sleep journey. I help them follow their instincts and practice sleep in a holistic way. I support my families using sleep practices that don't promote the use of any sleep training, and focus on everyone's sleep goals. I can not provide your family with a generic sleep plan because your family has needs that aren't generic and every child has their own unique sleep needs. Every single family that I work with has completely different needs, and goals that they wish to achieve. Heartfelt Slumber will validate your needs, and provide a clear understanding as we navigate through the sleep challenges together. We do not change anything that you enjoy doing on your parenting journey.
Daily support can be provided to ensure you are supported every step of the way, or we can navigate using an hourly call or a series of emails. We collaborate together and come up with a plan that will work for you and your family. At any point of the process if you are doing something that doesn't feel right we absolutely need to stop and address this. I can not offer a quick fix in my practice because I do not offer any sleep training methods. My goal is that you feel much more confident when understanding some underlying reasons as to why your child may not be sleeping, and to get us on the right track for optimal sleep.
I can't wait to chat with you and your family about your specific sleep needs. Book your free intro call today and we can get started towards more sleep for the whole family!